"Celebrating spiritual
growth while providing
academic excellence in a
Christ-centered environment"

9553 W. Edgerton Avenue

Hales Corners, Wisconsin 53130

414-425-3100 office

About Us Contact Us



Band Overview
St. Mary's has many extracurricular activities; and the instrumental music program stands out. During the time students are in grades 4-8 they are eligible to join band.
St. Mary's has a 4th grade, a 5th grade, and a 6-8 th grade middle school band, as well as our Jazz Ensemble. Out of a school population of 211 students in grades 4-8, eighty-five students enrolled in band this year. That is a 40% enrollment rate. Band is extremely popular here.
Students take lessons on their respective instruments and attend full band practices. This year our band members will perform many concerts here at school.
Every December our 5th grade band and our 6-8th grade band perform a Christmas concert at the U.S. Bank Center downtown and another in front of Macy's at Southridge Mall.
Our band instructor is Mr. Allard who has been a teacher here at St. Mary's since 1996. In addition to teaching at St. Mary's, Mr. Allard is a trumpet manufacturer representative and consultant. In addition, Mr. Allard teaches privately and performs as a freelance musician around the greater Milwaukee area. St. Mary Parish School is proud to offer an array of quality extracurricular activities. We hope you can come to one of our school band concerts this year. See the school website calendar of events and support our outstanding student body.
Lessons
Players have one lesson per week for thirty minutes and one rehearsal per week for forty-five minutes. Kids leave class time to attend a lesson in the band room for thirty minutes once per week.
Lessons are in group settings of like instrument.
Lessons times follow a rolling schedule. For example, if a group has a lesson at 8:00am one week the next week it will be at 8:30am. Each new week's lesson advances up a half hour to finally return to the 8:00am hour some weeks later.
Cost
Tuition is paid for by parents who enroll their child in the program. See Mr. Allard for more complete details.
Band rehearsals are as scheduled
Please pickup your child on the upper parking lot by primary doors. Students that are not picked up on time will be taken to the after school care program located in the Library.
4th grade Cadet Band Tuesdays 2:45 – 3:30pm
5th grade Concert Band Mondays 2:45 – 3:30pm
6–8th grade Wind Ensemble Wednesdays 2:45 – 3:30pm
(Thursdays are extra rehearsal days for middle school, to be arranged and communicated prior to rehearsals)
7-8th grade Jazz Ensemble Thursdays 2:45 – 3:30pm (Each rehearsal is on an every other week basis)
Band Director
Pierre Allard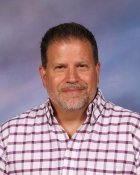 Grades
4th - 8th
Location
Band Room
Important Band Dates for 2020-21
Friday, December 18th, Grades 5-8 Christmas Field Trip Performances. This is a targeted trip date and is yet to be scheduled and may be cancelled due to COV19.

Monday, December 21st, 6 pm, grades 4-8 Christmas performance in the church.

Tuesday, March 9th, 6 pm, grades 4-8 band concert in the church.

Wednesday, May 26th, 6 pm, grades 4-8 final band concert in the church.