"Celebrating spiritual
growth while providing
academic excellence in a
Christ-centered environment"

9553 W. Edgerton Avenue

Hales Corners, Wisconsin 53130

414-425-3100 office

About Us Contact Us



Open House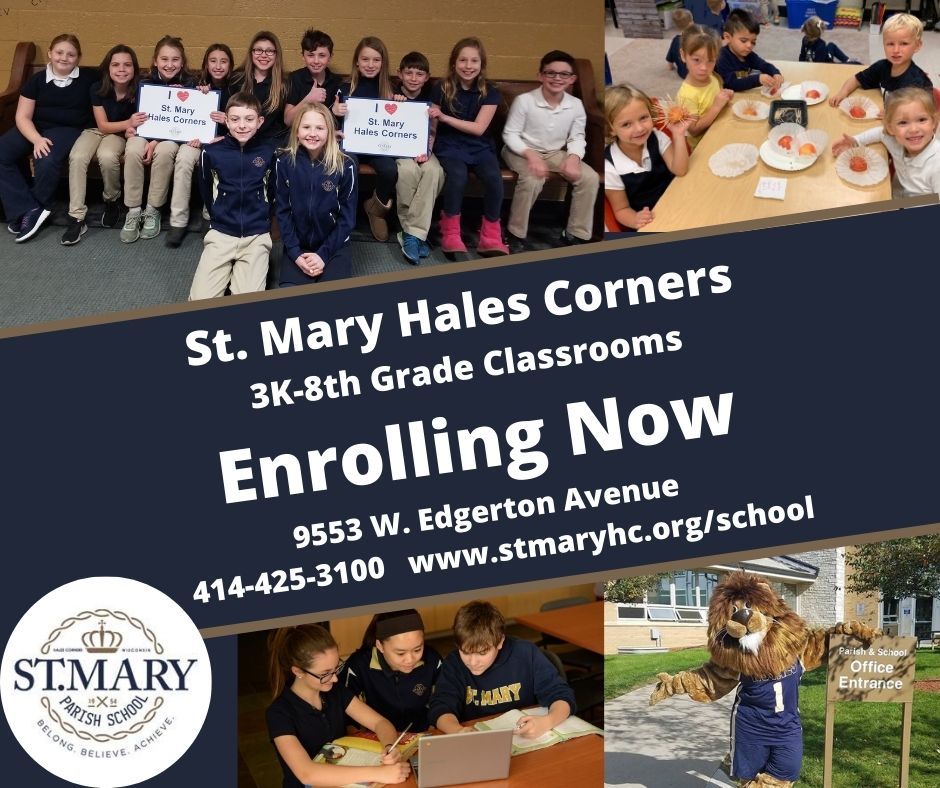 It's hard to believe that we are already anticipating and planning for the next school year. As you begin to determine where the best educational and spiritual development will be for your child, we invite you to take a look at St. Mary Parish School. Making this decision is one of the most important ones you will make for your child. And we, at St. Mary, want to help you make the right one for you and your family.
We pride ourselves on the characteristics that make St. Mary Parish School stand out among the rest. Here at St. Mary, the students, staff and families: Belong. As members of a faith community we give of our time and effort to help others. This is taught both as an expression of faith and good citizenship. St. Mary students, staff and families: Believe. The entire St. Mary Faith Community works on building a personal relationship with God through Word, Sacrament and Service. St. Mary students, staff and families: Achieve. Students are held to very high academic standards and supported by staff to reach their highest potential.
Our school is a special place steeped in a tradition of excellence and service to others. It is a testament to the parishioners at St. Mary that so many St. Mary graduates are now investing in their own children's futures by having them attend St. Mary Parish School.
Pace e bene,
Dr. Mark T. Joerres
Principal
---
Past Events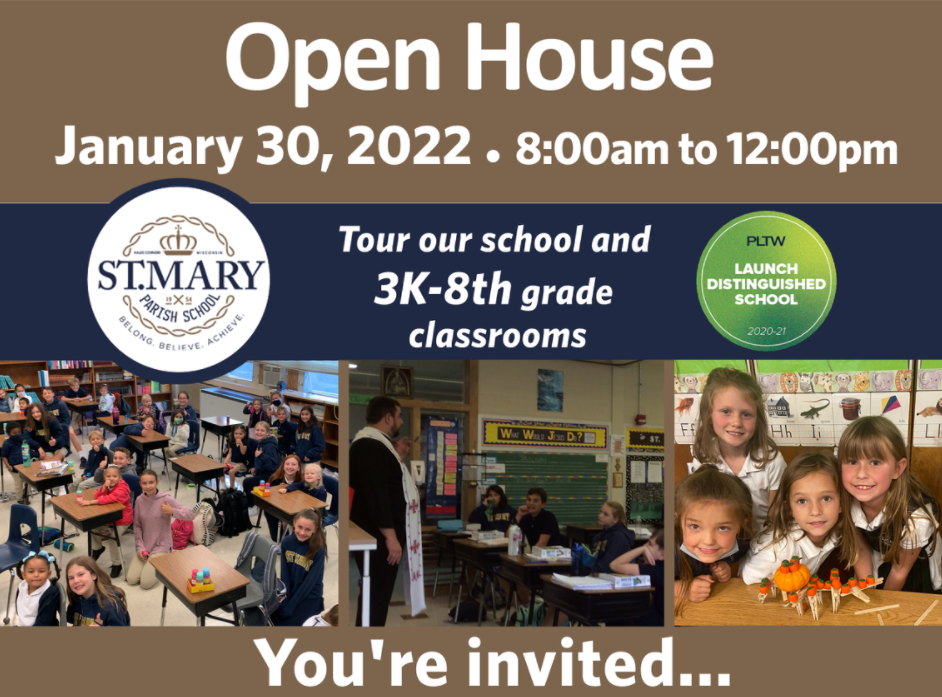 Tour Our 3k through 8th grade classrooms on Sunday, January 30. Come to experience everything St. Mary Parish School has to offer!
Meet our engaging educators
Explore classroom activites
Understand how faith is entrenched in all aspects of learning
Discuss what it's like to be part of our learning community
Please join us on January 30th, 2022 or call 414-425-3100 for more info.
If this day does not work for you, please click Schedule a Tour for a different day.
OPEN HOUSE
Registration is open for 3K - 8th grade for the 2022 - 2023 school year.

We look forward to seeing you!
Resources
Forms