Mass Times
Saturday at 4:00 p.m.
Sunday at 7:30, 9:00, and 11:00 a.m.
Monday-Friday at 8:15 a.m.
9520 W. Forest Home Avenue
Hales Corners, Wisconsin 53130
414-425-2174
Contact Us

Human Concerns
Love of Neighbor
You shall love the Lord your God with all your heart, with all your soul, with all your mind, and with all your strength. The second is this: 'You shall love your neighbor as yourself.' There is no other commandment greater than these." Mark 12:30-31
Our Catholic Social Teaching reminds us that the Corporal and Spiritual Works of Mercy are actions we can perform that extend God's compassion and mercy to those in need. St. Mary Catholic Faith Community is committed to dignity of life issues and stands in solidarity with the listed ministry partners.
---
Current Events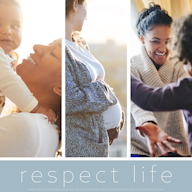 Blessing of Children in the Womb
9:00 am Mass on Sunday, December 17
Calling all families who are expecting a child…
Have your baby blessed while he/she is still in the womb.
During 9:00 am Mass, Father will invite you to stand for the blessing.
For more information, please contact Chris Warner
of the Respect Life team at 414-425-0146 or chrisawarner@yahoo.com.