Mass Times
Saturday at 4:00 p.m.
Sunday at 7:30, 9:00, and 11:00 a.m.
Monday-Friday at 8:15 a.m.
9520 W. Forest Home Avenue
Hales Corners, Wisconsin 53130
414-425-2174
Contact Us

St. Vincent de Paul Society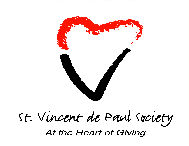 St Mary's St Vincent de Paul Society (SVDP) is a group of men and women who embrace the gospel message to see the face of Christ in those experiencing difficult problems. We offer material, spiritual and advocacy assistance to those who are in need. As citizens and Christians, we accept our obligation to cultivate sensitivity to social injustices and to participate in eradicating these social ills.
SVdP Food Pantry
Our food pantry provides food for those struggling to make ends meet, whether a short term or permanent need. Our pantry is open 3:30 - 4:30 p.m. on the second Monday of every month. Emergency bags of food provided by SVDP are available at the parish office on any day during office hours. Call 414 425-2174 ext 310 to use the pantry.
Other SVDP Financial Assistance
Our SVDP can provide emergency assistance for clothing, furniture, medicine, rent, and utilities. The person needing assistance can call our SVDP and two of our members will set up a confidential and compassionate home visit to review the emergency request. If you need emergency assistance, call 414 425-2174 ext 310 to request a home visit.
Outreach to the community of Milwaukee
In addition to providing services to the needy in our parish and Hales Corners community, our St Mary SVDP also provides food and financial assistance to four central city SVDP food pantries, provides food and serves monthly meals to the SVDP Southside meal program and provides weekly food supplies to the homeless shelter, Repairers of the Breach.
We need your help
You are invited to join our St Mary SVDP to help people that need our love and assistance. We always need new members and/or volunteers. You can join us as a SVDP member or just volunteer to help out in some of our many outreaches. We have regular meetings on the second Wednesday of every month at 3:30pm at St Mary's main meeting room. You are welcome to come to a meeting to learn more about us. If you cannot make the meeting, you can contact Fred Matestic or Pam Lownik to discuss SVDP and possible volunteer options.
In the pursuit of peace and justice,
we strive to be the compassion
of Christ
as we advocate for and minister to
those in need.
Mission Statement
---
Contact Us
Fred Matestic
President of St Mary SVDP
Email: fmatestic@hotmail.com
(414) 425-2174, ext 310