Mass Times
Saturday at 4:00 p.m.
Sunday at 7:30, 9:00, and 11:00 a.m.
Monday-Friday at 8:15 a.m.
9520 W. Forest Home Avenue
Hales Corners, Wisconsin 53130
414-425-2174
Contact Us

Pastors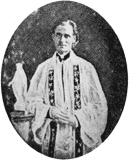 Rev. Patrick O'Kelley
February - June 1842
The Milwaukee area's first resident priest and also founder and first pastor of St. Mary's church was Father Patrick O'Kelley. In addition to conducting the first services at St. Mary's, his record points to the first Catholic services in Racine, Mt. Pleasant, Rochester, Burlington, Southport (Kenosha), Pleasant Prairie, Salem, Oak Creek, and Granville. He started Milwaukee's first Catholic church, St. Peter's (initially called St. Luke's and later to become St. John's Cathedral parish) in 1839, the year he arrived in Milwaukee.
Father O'Kelley was born in Birchfield, Kilkenny County, Ireland, and came to the United States in 1820. He was ordained in 1821 in New York and was assigned to missions in the western part of that state. He was transferred to Detroit in 1829, but moved to Ann Arbor, Michigan, in 1830 where he remained until his departure for Milwaukee.
Leaving here in June, 1842, he again became a missionary in Michigan. Sixteen years later he moved to Dearborn, Michigan, where he died October 7, 1858.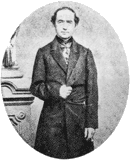 Rev. Martin Kundig
1842 - 1844
Father Kundig was born November 19, 1805 in Schwitz, Switzerland of poor, religious parents. After studying in Rome, he came as a student priest in 1828 to the American mission field with John Henni, a life-long friend destined to become Milwaukee's first bishop. Father Kundig was ordained in Bardstown, Kentucky on February 2, 1829.
In 1833, Father Kundig was assigned to Detroit, Michigan, which then had "no factories and not even a respectable grist mill . . . it had the appertenance, in language and customs, of an old French city." When he arrived, the Wisconsin territory, which then included eastern Minnesota, had 7,000 Catholics. By mid-1845 there were 21,000.
Almost immediately he began campaigning to make a new diocese of Wisconsin, then attached to Detroit. In May 1844, Father Kundig began his memorable founding and building operations. It is recorded that he built 22 churches, 10 of which were log, seven frame, two brick and three stone.
To him Catholic schools in Milwaukee, Kenosha, Racine, St. Martin's (Franklin), Beloit Corners and Waukesha owe their origin. He was also instrumental in establishing the first free public school in Wisconsin.
Rev. George Gormley
1915 - 1940
Father George E. Gormley served St. Mary's for 25 years, far longer than any other priest. It was the beloved Father Gormley who built the first and only parsonage in 1915, the year he became St. Mary's spiritual leader.
The eighth of 11 children, he was born March 8, 1877 on a farm about seven miles west of Watertown. George Gormley took a preparatory course at Sacred Heart College, Watertown, where his scholastic efforts won him a scholarship to Notre Dame University.
After graduation he entered Milwaukee's St. Francis Seminary, where he was ordained June 23, 1907. He was assigned as curate of St. James Church, Kenosha, prior to his appointment as St. Mary's pastor in 1915, with missions at Holy Assumption, St. Martin's and St. Joseph's, Big Bend.
Father Gormley's health failed in 1940. He was taken to St. Mary's Hospital, Milwaukee, and then transferred to Sacred Heart Sanitarium. After this rest period, he returned to his parish for a short time before Archbishop Moses E. Kiley transferred him to the chaplaincy of St. Joseph's Hospital, Beaver Dam. When his health continued to fail, he re-entered St. Mary's Hospital where he remained until his death on April 13, 1945.
Rev. David W. Ryan
1940 - 1942
He was born March 1, 1904 in Milwaukee and attended St. Patrick's School there. He entered St. Francis Seminary in 1920 and was ordained in 1931.
His first assignment was as assistant pastor of St. John's Cathedral, Milwaukee, for three years. In 1934 he became assistant pastor of St. Jude's Church, Beloit, remaining there until his assignment at St. Mary's.
Father David W. Ryan was pastor here from June 4, 1940 until February 11, 1942 when he entered the armed forces as a chaplain. His two year's service with the 82nd Airborne Division in the European Theatre brought him various military decorations, including the Presidential Citation, French Fourragere, four battle stars, three invasion Arrowheads, Bronze Star and a decoration from the Netherlands government.
Rev. Joseph T. McQuestion
1942 - 1953
The pastor from March 1942 until his death in July 1953 was Father Joseph T. McQuestion. Born in Kenosha on January 19, 1904, he attended St. Thomas parochial school there and entered St. Francis Seminary in 1919. He was ordained on February 2, 1930.
After his ordination, he served for 11 years at St. Thomas Aquinas Parish, Milwaukee. In 1941 he became pastor of St. Patrick's Parish, Doylestown, Wisconsin, serving there until his appointment to St. Mary's.
Father McQuestion spearheaded the program for St. Mary's first school in 1952. The school was nearing completion in 1953 when he died suddenly after a heart attack.
Rev. Thomas P. Trahey
1953 - 1962
Father Trahey was born May 16, 1907, in Milwaukee. He attended St. Francis Seminary and was ordained by Samuel Cardinal Stritch at St. John's Cathedral on June 10, 1933.
Father Thomas P. Trahey was pastor of St. Mary's during its period of most dramatic growth. When he arrived in July 1953, to succeed the late Father Joseph McQuestion, St. Mary's had barely 300 families. When illness led to his departure late in 1962, our parish had 1,150 families.
Under his direction, the original eight-room school, which was about 70 percent complete when he came, was finished. The Sisters' home was also constructed during his tenure, and to Father Trahey fell the task of securing Sisters to staff the school. Later, he guided the construction of the new church and the school addition.
Rev. Francis Drabinowicz
1962 - 1969
Father Drabinowicz was born in Milwaukee on October 5, 1909. He attended St. Vincent De Paul parochial school where he graduated as valedictor- ian in 1922. He was also a graduate of the old Marquette Academy, now Marquette University High School, and Marquette University, receiving his Bachelor of Arts degree in 1930. That September he entered St. Francis Seminary. He was ordained by Samuel Cardinal Stritch in the Cathedral of St. John, Milwaukee, in 1934.
Music always had been a prime interest of Father Drabinowicz. He directed, for nine years, the Bel Canto choir, a group of mixed voices, and raised it to a top organization in the musical circles of Milwaukee.
On December 18, 1962, Father Drabinowicz was appointed pastor of St. Mary's. Soon after his arrival at St. Mary's, the church entered a liturgical renewal. At the same time, renovation of the convent and rectory, a new sanctuary, a school library, and a school kitchen were included among his projects as the parish grew to include 1392 families. In 1969, he became pastor of St. Mary's of Pewaukee. He retired in 1970 and died on October 30, 1986.
Rev. Francis Tenpenny
1969
Francis Joseph Tenpenny was born in Oshkosh on August 17, 1909. He was ordained in 1935 and served as assistant at St. Matthew's, Milwaukee, until 1945, when he served briefly as administrator of Sacred Heart's, St. Martins. In July, he became pastor of St. Joseph's, Lyons, where he remained until 1957, when he became pastor of St. Gregory the Great. He was transferred to St. Mary's on March 24, 1969, and died after a brief illness on July 9, 1969.
Monsignor James Doheny
1969 - 1970
James W. Doheny was born in Hollandale, WI on October 13, 1917. He attended Pio Nono high school and St. Francis Seminary, and was ordained in 1943. He was assigned as assistant at St. Rose, and in 1949, was named spiritual director at St. Francis Seminary, where he remained until 1963, when he became archdiocesan director of vocations. He was created a monsignor in 1965, when he was pastor at North Lake. In 1969, he became pastor of St. Mary's, and the following year, went to St. Therese, Eagle. After a sick leave in 1972, he became chaplain at St. Catherine's hospital in Kenosha, remaining there until his retirement in 1989.
Rev. George Zwadzich
1970 - 1982
George John Zwadzich was born April 6, 1921 in Milwaukee. He was ordained in 1946. His first assignment was at Christ the King Cathedral in Superior, where he started a number of youth activities, an interest that continued throughout his life.
In 1947, he returned to the Milwaukee Archdiocese to serve as assistant at St. Lawrence, where he remained until 1951. He then went to St. Alphonsus, where he began a CYO program and organized scouting programs for both boys and girls. From there he went to Blessed Sacrament, then Sacred heart, St. Francis; St. Thomas, Waterford; St. Patrick, Racine; and St. Joseph, Grafton. His first pastorate was at Holy Family, Reeseville, in 1967. In 1969, he became pastor of St. Therese, Eagle, and came to St. Mary's in 1970.
During the 12 years he spent at St. Mary's, he remained active in Scouting and other youth activities. He was also interested in local history and active in the Hales Corners Historical Society.
He presided over the renovation of the church, and although in ill health, was able to celebrate the first mass there. He retired in September 1982, and died on December 15, 1982.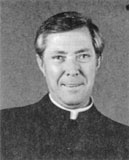 Rev. Leonard Barbian
1982 - 1993
As St. Mary's commemorated its Sesquicentennial in 1992, it also celebrated the tenth anniversary of Father Leonard Barbian as Pastor. Before joining St. Mary in July, 1982, Father Barbian served St. Monica and St. Gregory the Great parishes and also was a member of the Catholic Family Life Program's administrative staff.
Born in Milwaukee on October 15, 1939, Father Barbian is the youngest of Fred and Anna's six sons. He was baptized at St. Matthias and, along with his family, soon became active in church activities at Holy Assumption parish in West Allis. He was ordained on May 29, 1965 and two years ago celebrated his 25th anniversary as a priest.
Father Barbian became well known at St. Mary for his down-to-earth homilies, at times laced with humor to make a spiritual point, and for his active interest and involvement in parish committees and organizations.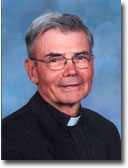 Rev. Art Heinze
1993 - 2005
Fr. Art was born and raised in Kenosha, Wis. He was ordained a priest in 1968. After serving as an associate pastor at Immaculate Heart of Mary, West Allis, he studied theology at Boston University, Boston, Mass. After his studies were completed, Fr. Art taught pastoral theology for 13 years at St. Francis Seminary, St. Francis, Wis. He was assigned to St. Mary Catholic Faith Community in June 1993. Fr. Art loves parish life and the joy of celebrating and serving people of all ages.
As Father Art Heinze prepared to take his new assignment as pastor of St. James in Lannon (near Menomonee Falls), he reflected on his years of service to our parish.
Read Fr. Art's reflection on his years as pastor of St. Mary (

3.9MB)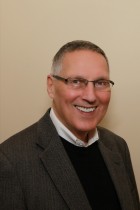 Father Charles Schramm
2005 - 2014
St. Mary Catholic Faith Community welcomes our new pastor, Father Chuck Schramm, who succeeds Father Art Heinze. Father Chuck most recently served as pastor of St. Sebastian, in Milwaukee, a position he has held since 1992. Father Chuck brings 34 years of priestly ministry to our faith community.
Our parish holds a special place in Father Chuck's biography - and heart -- as his first assignment after ordination in 1971 was here. He served our parish community from June 1971 to July 1978. He holds many wonderful memories of his time here with pastor Rev. George Zwadzich and associates Father Neil Zinthefer and Father Ron Gramza. Father Chuck has had several enriching parish assignments since that time, including St. Mathias, Our Lady of Lourdes and St. Sebastian.
He notes that one of his "policies," was to never go back to a parish where he had once been assigned. But he quickly lost his resolve as he began to explore the possibilities for his next assignment. Visiting St. Mary as part of the exploration process "brought forth a flood of positive memories and emotion," he says. Our parish reputation, a meeting with Father Art to learn more about the parish, the warm greetings of staff members who were here in the 70s, and, while visiting the school, an encounter with a school parent who was a student at the school during Father Chuck's first assignment here, convinced him that this could be an exciting opportunity.
"I'm delighted to be returning to St. Mary's. I realize that while there are long-term parishioners whom I remember, the community has also grown," he says. "I've already experienced the friendly and welcoming spirit of the people. And the parish is as vibrant as ever. The sense of hospitality is very strong."
Father Chuck grew up in Fond du Lac, where his 88-year-old father still lives. He makes weekly trips to visit his father, who lives on his own, shovels his own snow and cuts his own lawn. He also has two sisters who live in the Fond du Lac area. Father Chuck graduated from Goodrich High School in Fond du Lac, and served in the U.S. Army. He earned his Bachelor of Arts degree in philosophy, and Master of Theology degree from St. Francis Seminary in Milwaukee. He subsequently earned his Master of Social Work from the University of Wisconsin-Milwaukee.
He currently is serving as chair of the Archdiocesan Wellness Council for Priests. To model the healthy behavior he promotes, Father Chuck has adopted "fast walking" as his exercise of choice. And he tries to eat healthy.
Among his special interests in ministry are preaching and presiding (look for his trademark yellow legal pad containing his homily notes), counseling and adult formation. He also is devoted to promoting a parish climate conducive to maximizing individual potential and team work. His leadership style is to get to know people through informal opportunities as well as through official structures. "I like to help people to think. You may not always agree with my point of view but if we can have a thoughtful discussion, I feel we have been successful."
He hopes to introduce a weekly scripture class, something that was well received at his last parish. "Opening the scripture for the coming Sunday helps me prepare my homily and helps participants gain new insight into the Word," he says.
On a personal level, Father Chuck is an avid reader. He's dedicated to his regular exercise regimen, and also likes movies and relaxing with friends and family.
Excited to be here, he notes, "I have lots of new people to meet and many new things to learn."