Mass Times
Saturday at 4:00 p.m.
Sunday at 7:30, 9:00, and 11:00 a.m.
Monday-Friday at 8:15 a.m.
9520 W. Forest Home Avenue
Hales Corners, Wisconsin 53130
414-425-2174
Contact Us

Associate Pastors
| | |
| --- | --- |
| 1966-68 | Joseph L. Cunningham |
| 1969-70 | James L. Lesch |
| 1970-71 | David J. Braun |
| 1970-76 | Neil G. Zinthefer |
| 1971-72 | Alphonse P. Rumbac |
| 1972-78 | Charles H. Schramm |
| 1977-81 | Ronald J. Gramza |
| 1979-82 | Daniel J. Lasecki |
| 1982-84 | Andrew P. Doyle |
| 1983-84 | Ronald C. Kowalski |
| 1985-90 | Dennis G. Budka |
| 1985-87 | Thomas A. Tearney |
| 1988-89 | Joseph J. Wehr |
| 1990-91 | Thomas J. Walker |
| 1991-2001 | James Brady |
| 2001-04 | Gary Nowicki |
| 2004-2007 | Todd Budde |
| 2007 - 2009 | Stephen Forest |
| 2010 - 2013 | Matthew Widder |
| 2013-2014 | Brian Mason |
| 2014-2016 | Gideon Buya |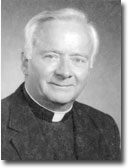 Rev. James Brady
Associate Pastor 1991 - 2001
Reverend James Brady was appointed associate pastor of St. Mary's in May 1991, but did not actually arrive until December. He had been rector of St. John's Cathedral for the past 12 years, and then spent three months in Rome on a sabbatical before coming to St. Mary's.
He grew up in Kenosha, and was the youngest of five children. He was the only boy in the family and regularly served as an altar boy, which was how he became interested in the priesthood. He was ordained in 1953.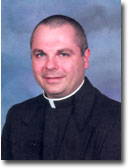 Rev. Todd Budde
Associate Pastor 2004 - 2007
Fr. Todd was born in Beaver Dam, Wis., where his parents and two grandmothers still reside. He received a Bachelor of Arts degree from Marquette University in 1992 and a Master of Divinity degree from St. Francis Seminary in 2001.
Fr. Todd was ordained in May 2001. His first assignment was St. Roman Parish, Milwaukee, Wis. He joined St. Mary Catholic Faith Community in June 2004. Intergenerational ministry and pastoral care are among Fr. Todd's interests in serving others. Some of his hobbies are sports, American history, sci-fi and movie-going.

Rev. Stephen Forrest
Associate Pastor 2007 - 2009
Fr. Stephen was born in London, England, where his mother and three brothers and sister still reside. He is a member of the Missionary Community of St. Paul the Apostle, a missionary group that has a presence in Kenya and Ethiopia in Africa and in Bolivia, Colombia, Mexico, and the Dominican Republic. They also have a house in Racine where Fr. Stephen lives with the other members of this religious group. Fr. Stephen got his BA from UW-Parkside in 1999 and got his masters in divinity in 2004. He was ordained in 2004 and assigned to Prince of Peace/Principe de la Paz Church on Milwaukee's south side.
Fr. Stephen feels that a missionary spirit and trying to reaching out to all God's children are key to his ministry.


Rev. Matthew Widder
Associate Pastor 2010-2013
After ordination in May 2010, Father Matthew arrived at St. Mary for his first assignment as a parish priest. A native of Sheboygan, he earned a degree at the University of Wisconsin–Stevens Point before entering the seminary. The community quickly embraced him and the gifts he brought – devotion to the Eucharist and a commitment to live a healthy life, both physical and spiritual. His boundless energy propelled him to get involved in many initiatives in the parish including JusticeWalking and the Go Make a Difference (Go MAD) program. He was particularly dedicated to the Religious Education program, working with children and youth to bring their faith alive through service to others.


Rev. Brian Mason
Associate Pastor 2013-2014
Father Brian Mason brings 20 years of experience as a priest to his assignment, which began in June 2013. Prior to joining the staff at St. Mary, Father Brian served at a number of parishes in the Archdiocese as an associate, a pastor, and a member of a pastoral team that served three parishes on Milwaukee's east side and Riverwest neighborhood. A native of Menomonee Falls, Father Brian graduated from Pius XI High School and attended the University of Wisconsin-Milwaukee, completing his undergraduate degree at Marquette University. He entered the seminary at the age of 28 to fulfill his goal to become a priest. He loves to celebrate Eucharist with the faithful and enjoys preparing and delivering homilies.
Rev. Gideon Buya
Associate Pastor 2014-2016
When he was in high school in his home town of Mombaso, a city on the eastern edge of Kenya, Fr. Gideon met members of the Missionary Community of St. Paul the Apostle, a group that works in Kenya and Ethiopia in Africa and in Bolivia, Colombia, Mexico, and the Dominican Republic. After high school, he joined that community and worked in the Dominican Republic. After his service there, Fr. Gideon was invited to come to Wisconsin to spend time in the Community's formation house where he could learn about American culture. He often would visit parishes throughout the Archdiocese on Mission Sunday to explain the work of the Community. In 2009 he began his studies for the priesthood and joined St. Francis seminary. He was ordained in 2014. His first parish assignment was here at St. Mary.