The History of St. Mary Catholic Faith Community: Historical Overview, Year by Year
1842-1844
The first recorded mention of our parish was contained in a report to clerical friends in Ohio by Father Martin Kundig. Writing from Milwaukee on December 28, 1842, Father Kundig listed 20 parishes already established or about to be established by himself; second on the list of those in existence was St. Mary.
"St. Mary's parish, 10 miles southwest from here, has about 140 families, mostly English, that is to say, English-speaking. A church has been built."
The history of St. Mary dates from this 1842 reference, though there appears to be little doubt the parish was actually established a year or two earlier. Bishop Peter Lefevre of Detroit, who had this area of Wisconsin under his wing, and Bishop Loras of Dubuque, who made excursions even as far as Milwaukee, knew the growth potential of the church in Wisconsin. Nevertheless, it fell to Father Kundig, who initiated progress with a missionary's zeal, to help bring the matter to the attention of the church leaders in Baltimore.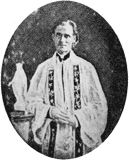 Rev. Patrick O'Kelley
February - June 1842
The first priest in attendance at St. Mary was not Father Kundig, but Father Patrick O'Kelley, who came to Wisconsin from Ann Arbor, Michigan, in May 1839. Assigned to St. Luke in Milwaukee, his priestly duties took him on frequent trips to outlying districts where immigrant Irish, German, Scottish, English and French had long since fanned out from the city to take up farming. A well-established route was along the Janesville Plank Road, now Forest Home Avenue. Probably as early as 1840, but surely before the end of 1842, Father O'Kelley saw to the building of a log church, the first home here for St. Mary parish. This church was erected on the site of our present cemetery. Since the oldest headstone bears the name of Patrick McGowan, who died in August 1842, indications are that the site of the church, if not the actual building itself, was established prior to 1842.
Father O'Kelley's duties required serving other communities along the circuit in Oak Creek, Racine, Kenosha, Burlington and perhaps several other areas. But he had difficulty with his health, as well as his German, and he returned to Michigan in June 1842. Father Kundig, no less devoted but perhaps more physically fit, was his successor. The 140 families at St. Mary became his prime responsibility, and he is listed as our second pastor. At this period there were but five other priests in the whole territory of Wisconsin.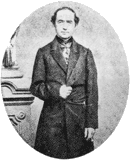 Rev. Martin Kundig
1842 - 1844
It's unlikely that Father Kundig ever actually resided within what were then the parish boundaries, but we can glory in his personal accomplishments. Father Kundig had the wit and acumen to promote progress of church and of state side by side. Thus, he is credited with establishing the first Catholic school in Milwaukee and only a little later with influencing the move to establish a public school system in Wisconsin. His gift for organizing gains him credit in history for bringing together leaders and groups that were eventually active in formation of the state itself.
Father O'Kelley's record is not so colorful or detailed as Father Kundig's. However, there is no denying he organized Milwaukee's first Catholic Temperance Society, with which a number of St. Mary's Irish were proudly affiliated. Father Kundig in turn made news, to the East coast and beyond, with a St. Patrick's Day parade, which turned out to be a great civic and religious demonstration. His purpose was to draw attention to the importance of Wisconsin as a growing territory and to convince the Catholic hierarchy that a diocese should be created here.
The gathering of some 3,000 Catholics from about 20 southern Wisconsin parishes was so impressive that news of it put Milwaukee on the map. Church authorities realized that Wisconsin deserved a bishop who would reside in Milwaukee. On March 19, 1844, Father Henni was consecrated the first bishop of Milwaukee, although he did not arrive in the city until May. That the new bishop and Father Kundig had been lifelong friends is considered evidence of the latter's skill in human relations. By far, the majority of the first Catholics of Wisconsin were of German origin and needed religious services that English-speaking priests were unable to supply. The real beginning of satisfaction for this need was realized by the arrival of Bishop Henni, a German. St. Mary, however, was primarily an Irish parish.


1843-1892
Father William Quinn was named pastor of St. Mary in 1843, but like all early Wisconsin priests, he served a wide territory including Greenfield, Franklin, Oak Creek and Prairieville (Waukesha). Father Quinn performed the first baptisms in St. Mary's log church on November 10, 1844. Sharing this distinction were Thomas and James, twin sons of Phillip and Mary McDermott. One Thomas McLoghlan was baptized that same day. Father Quinn also performed the first marriage ceremony at St. Mary, the wedding of Nicholas Nolan and Mary Kelly on November 24, 1844.
Father Kundig, who had been in and around Kenosha since 1844, was now Vicar-General of the Milwaukee diocese. From personal knowledge of the primitive roads in this new state and the ease of travel on water, he saw the value of and promoted a canal from Muskego Lake to the Root River. Nicely situated between the east and west ends of this proposed canal in the town of Franklin was a settlement of Irish who persuaded him to name the village after his patron, St. Martin. Soon after, on April 13, 1847, Father Kundig established Holy Assumption Church there and this became the mother parish of St. Mary. Though this move affected the status of St. Mary as the mother parish of the Greenfield/Franklin area, it did not affect its identity. St. Mary was served as a mission of the Holy Assumption parish at St. Martin's until Father George Gormley built the rectory at St. Mary in 1915.
The proposed canal ran into opposition and was never built. Father Kundig left St. Martin for various assignments, the last of which was at The Cathedral of St. John the Evangelist, where he was rector for 20 years (1859-1879). Holy Assumption's present church, built in 1867, still survives. It was a mission of St. Mary until 1991.
Father Quinn remained at St. Mary until Father J. Conroy was named pastor in 1852. Three years later, Father Joseph Smith followed and built a small frame church just west of the old log church. This was the first building on the land deeded to Bishop Henni by Charles and Ellen Moore. It was completed in 1858. Father J. McGowan attended to the needs of St. Mary's parishioners in the early 1860s, and was succeeded about 1868 by Father Edward O'Connor, who had been pastor at St. Mary in Pewaukee. He died on Valentine's Day, 1873, and was buried in Franklin.
Father E. A. Graves succeeded him, but only remained for about two years, followed by the one-year tenure of Father E. McQuirk. The next pastor was Father John J. Kinsella. He completed St. Matthew's church in South Milwaukee while a professor at St. Francis Seminary, and died in Franklin March 4, 1879.
Father Fagan was pastor from 1876 - 1878, and Father Tierney followed him from 1878 - 1881. Between 1881 and 1892, Fathers O'Neil and Horan were the pastors.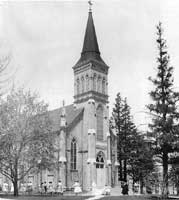 For 67 years, Catholics in the Hales Corners area were baptized, married, and buried from the "brick church on the hill."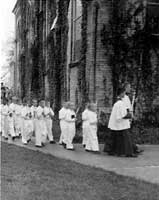 First Communicants filed into the old church in this undated photo.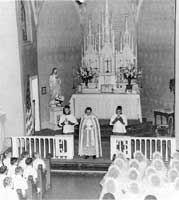 Father Trahey welcomed First Communicants during a mass in the "brick church."
1893-1942
Father J.W. O'Keefe was in charge when the "cream city" brick church was built in 1893. A landmark along Forest Home Avenue, it served the parish for the next 60 years. The frame church it replaced was eventually moved to land on what is now South 108th Street, just south of West Layton Avenue, and survived until demolished in a highway widening project in 1966. Father O'Keefe was born near Madison and ordained in 1891. St. Mary was his second assignment. Followed him as pastors from 1895 to 1915 were Fathers J.T. O'Leary, Phelim Hughes, E.A. Hemming and Gormley.
Hales Corners and St. Mary experienced slow but steady growth in the 1930s. No doubt the regular spiritual benefits helped the people endure the material hardships of this time. Father Gormley's health failed in 1940, at which time he was relieved as pastor.
Father Gormley was succeeded as pastor by Father David W. Ryan in 1940. In 1942, Father Ryan entered the United States Army and was succeeded by Father Joseph T. McQuestion.


1952-1962
By 1952, the number of families had increased to 288, with more than 200 children of grade-school age. Many children of the parish attended the St. Alphonsus School at Greendale through the invitation of the pastor, Father Arnold Spangler. Father McQuestion, foreseeing the growth of his parish, inaugurated a fundraising drive to build a school. The drive met its goal of $150,000 in pledges, and in February 1953 a contract was let to the Schmidt Construction Company for a building with eight classrooms, a kitchen and a hall.
Father McQuestion's death in July caused Father George Hastrich, the assistant of the parish, to take charge of the school's completion until the new pastor, Father Thomas P. Trahey, arrived in August. On July 11, just four days before Father McQuestion's death, men of the parish, several of them professional builders, began construction of a convent so that the teaching nuns could be assured of living quarters when the school opened. The School Sisters of St. Francis were on hand when the building held its first classes on September 8, 1954. There were 17 pupils in the first graduating class of 1955.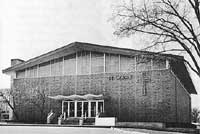 The new St. Mary's church, circa 1961, shortly after completion.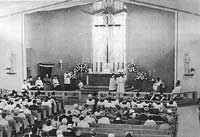 Dedication ceremonies by Archbishop Cousins on May 9th, 1961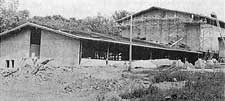 The addition during construction
By 1959, community growth within the parish boundaries had brought the parish to 800 families, and both church and school were proving inadequate. Catholic families were attracted to the area by the excellent school facilities, and farms were being plotted and lots sold at a remarkable pace. Soon the capacity of the school had been exceeded, with more than 425 children enrolled. Even with 10 classrooms (two more had been set up in the basement hall), more than 300 children were turned away in 1959. It was time for expansion and Father Trahey directed a new fund drive to garner pledges to finance an addition to the school, and for a new church auditorium, which could accommodate the growing number of persons at all Sunday masses. The drive was successful and soon a contract was let to Math Starck and Sons for construction of a combination of 10 classrooms and a new church at a cost of over $400,000. The schoolrooms were in use by September 1960. The first service in the new church was a Midnight Mass celebrated by Father Trahey on Christmas 1960.
In December 1962, Father Trahey resigned because of ill health and was succeeded by Father Francis Drabinowicz, who arrived on Christmas Eve. An accomplished pianist and former director of the Bel Canto choir, a well-known choral group, Father Drabinowicz was often called upon to play for the enjoyment of St. Mary's organizations.


1963-1965
In 1963, the parish witnessed the demolition of the "Church on the Hill," which had served St. Mary for so long. It had been built to serve a much smaller parish and its lack of facilities forced a reluctant decision to raze it. To many parishioners, its passing marked the end of an era. To those who arrived in later years, it represented a link with a simpler past. Many parish families treasured some small souvenirs from this building -- a bell rope, a brick or two, a piece of stained glass.
A liturgical era was also at an end as a result of the Second Vatican Council. Changes in worship required the redesign of the church sanctuary and the installation of a new altar in 1965.


1969-1970s
In March of 1969, Father Drabinowicz was replaced as pastor by Father Francis Tenpenny. His service at St. Mary was extremely brief as cancer claimed him in July. Monsignor James Doheny became an interim pastor until the appointment of Father George Zwadzich in 1970.
Father Zwadzich presided over the formation of the Parish Council, which enabled the lay people of the parish to assume some of the burdens and duties of St. Mary, which now included over 1700 families. Overcrowding at Sunday Masses in the mid-70s made it necessary to plan another addition to the church. The planners sought to create a warm and inviting setting for the liturgy through a large narthex or fellowship area. Access for the handicapped was also provided.
The construction of the new wing began first. Upon completion, this multi-purpose room functioned as a gymnasium, meeting room and most importantly, as a place to worship on weekends while church renovation continued. One of two new classrooms included in this wing was used as a chapel for weekday liturgies. A tower and carillon system, donated by the Altar Society, was also built to house the bell from the "Old Brick Church."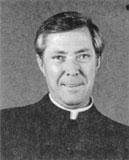 Rev. Leonard Barbian
1982 - 1993
1982-1984
Father Zwadzich's poor health and retirement led to the appointment of Father Leonard Barbian as pastor of St. Mary in 1982.
The decrease in the number of vocations to the sisterhood and the changing role of nuns led to the closing of the parish convent. In winter of 1980-81, the convent was remodeled into a parish office, in which the individual bedrooms were made into offices, and the front chapel was made into the main office. Several years later, a recreation room was built in the basement, so that it could be an additional meeting room, a much needed space for this growing, active parish.
About the time when the convent closed, the parish purchased a white house one block away from the school on Allenwood Lane to be the new residence for the sisters. However, because of declining vocations and other factors, the Sisters of St. Francis decided to no longer staff the parish school. The remaining sisters then moved to private apartments. In the end, the white house was used only by Father Ron Gramza, then Sister Phyllis Wirtz; and in 1984, the parish sold the house.
Some of the proceeds from the sale of the white house went to finance the rectory remodeling project, which occurred in 1984. Fresh carpet was laid down, a large bay window was installed, and new furnishings were added. giving the rectory a charm and spaciousness it had lacked.


1989
Another significant improvement to the parish grounds was the creative playground, located on the small lot just south of the parish office. This kids' entertainment center took on two phases. The first phase, coordinated by Peter Conigliaro, involved the installation of several structures for the children to play on during school recess. The structures included a concrete tube to play on and some tires to hop into. The second phase, sponsored by the Home and School Association, updated the original structures with a wooden, all-in-one playground. Some dedicated parents and Boy Scout Troop 530 helped to clean-up the area. The cost of the playground was financed through a pizza sale fundraiser. The playground was installed in October 1989.


1992 - 150 Years
St. Mary's sesquicentennial year also marked the tenth anniversary of Father Leonard Barbian's tenure as pastor, a decade-long span that vividly reflected the vitality and vision of his leadership. Significantly, Father Barbian first mingled with parishioners during our initial festival in July 1982, a scene of bubbling activity that has characterized these years and has helped label St. Mary as a caring, hospitable, faith-filled community throughout the archdiocese.
Physical changes in the parish simmered down until 1991-92, the sesquicentennial year for the parish. During this time period, the interior of the church was painted, giving the worship space a brighter look.
A three-rank organ was installed in the church in the Fall of 1991 as part of the sesquicentennial fundraiser. Made by Rodgers Classic Organs, the Oxford 945 features authentic pipe voices.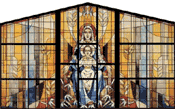 Above the organ in the choir loft, a beautiful stained glass window was installed in March of 1992. The design and installation were completed by Oakwood Esser Studios of Oconomowoc, and features Mary, the Mother of Jesus and patroness of our parish, presenting Jesus to the world as a reminder to parishioners that we, through our daily lives, are also to present Jesus to the world.
The lights in the church, school, and parish center seemed always to be burning, evidence of St. Mary's numerous religious, educational, business, social and recreational programs serving more than 2500 families, an 800-family growth in 10 years. To minister to this veritible city-in-itself, Father Barbian attracted a staff devoted to a "common vision," as he called it. "We are a church of people, not buildings. We are in the people business. We must always keep in mind that we are in the people business."
The staff's main thrust was spiritual ministry. It is sufficient to say here that "service" is the hallmark of this group, that ranges from clergy to a corps of volunteers who served as Monday-Thursday evening receptionists at the parish office. Father Barbian insisted that his staff, working with the Parish Council, focus on the needs of the parish as a whole, not on separate kingdoms. This staff reflected the trend of the future: greater reliance on lay ministers and lay leadership to enable the clergy to fulfill their primary, spiritual vocation. To assist our priests in the spiritual sphere, a permanent deacon was added in 1984, and a lay pastoral minister in 1991.
During Father Barbian's pastorate, St. Mary inaugurated a host of liturgical and support programs that marked it as a model parish. The weekly church bulletin read like a litany of events with commendable broad scope. These included: first Saturday devotions to Mary, our patronness, and other Marian celebrations; the annual Holy Hill pilgrimage; weekly Masses for all school children; an annual Mass for the bereaved; "Rainbow," a support program for counseling children from families disrupted by divorce or death; the Christian Family Movement (CFM); the annual evening for married couples; a designated Family Life month (November); the administration of FOCCUS, a pre-marital inventory, by married couples to engaged couples; the Parish Mission; the Ministry of Care and Hope for the bereaved; vesper services in Lent and Advent; the annual Day of Discipleship; a Youth Rally sponsored by district parishes; a cantor program; morning prayer services; special holiday liturgies at Thanksgiving, July 4, Memorial Day, Labor Day; the RCIA program; a seasonal "call-back" program before Lent and Advent for public school children; reconciliation and witness talks.
New choirs were formed to help make every liturgy special. In addition to the long-standing Mixed Choir and the Harmony Choir, the Resurrection Choir sang for funeral Masses; Godsong; and the Spirit Choir, composed of younger parish members. A music advisory committee was formed to assist and coordinate these choirs.
Father Barbian insisted that St. Mary's programs be rooted in prayer and lead to action, addressing the issues of Christian formation, equality and justice.
Moreover, St. Mary looked beyond parish boundaries through an outreach program that financially assisted deserving organizations in the Greater Milwaukee area and beyond. In this vein, part of the contributions to the sesquicentennial fund were earmarked for outreach projects. Another manifestation of outreach was the annual Christmastime "Circle of Love," which collected gifts for needy families inside and outside of the parish.
The periodic interchange with our sister parish, St. Matthew (25th and Scott Streets) made our council and parishioners better acquainted with the challenges of a metropolitan Milwaukee church. St. Mary supported "Walking Together," a multi-parish project that plans to identify and respond to needed community improvements.
Academically, our grade school students received a top level education. A kindergarten was added in 1982, enlarging the scope of Catholic education for our children. Attesting to the quality of education here, school enrollment was over-subscribed.
Shortly before Father Barbian's arrival, major building projects — the extensive remodeling of the church, a school addition, and the erection of the Community Center — were virtually completed. But other improvements and refinements continued to take place.
Parish records were computerized, business desks and typewriters updated, VCR equipment added. In the school, all upper wing and cafeteria windows were replaced in the interest of heat economy and appearance. Stained glass windows and a new organ were added to the church through sesquicentennial donations from parishioners.
To Father Barbian, environment was a sign of "caring." "If it's broken, fix it; if it can be improved, improve it," his actions say. "Keep up with the times." The foregoing physical improvements reflected Father Barbian's love of beauty and order — keeping things fit.
Changing times, however, brought an end to an association dating back to the mid-1800s. The reduction here in 1991 from three priests to two dictated that St. Mary relinquish its mission church, Holy Assumption in St. Martins. Holy Assumption became affiliated with nearby Sacred Hearts of Jesus and Mary, a geographically logical alliance.
Obviously, the developments of those 10 years were more than the handiwork of one man. But they were the apt reflection of his skill as a motivator. Father Barbian earned the mark of a man who gets others to say "I'll do it," and to share his belief that St. Mary was not just a parish, nor a church, nor a school, but the lively, dedicated, Christ-filled faith community envisioned by Vatican II.


1993
The year 1993 marked a time of change at St. Mary as we said farewell to pastor Rev. Leonard M. Barbian, who had served as our leader for almost 11 years. His next assignment was to serve as the executive secretary for the Priest Personnel Board of the Archdiocese. Father Leonard was remembered for his trademark corny jokes, homilies that carried messages in groups of threes and his strong support of our school. His ministry here was marked with uniting the parish. He also proclaimed that the gym was not a gym but a "Community Centre."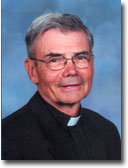 Rev. Art Heinze
1993 - 2005
Succeeding Father Leonard was Rev. Arthur G. Heinze, who came to us after serving as vice rector at St. Francis Seminary. Father Art arrived June 1 and we were quickly reminded of the goodness of God. Father Art's deep love of the sacraments, combined with his ability to "teach" as he broke open Scripture for his homilies, was a wonderful gift to be taken in by all. We also discovered that our pastor was a diehard Milwaukee Brewers fan - regardless of the team's woeful win/loss record -- and an avid bicyclist.
There were 38 graduates in the St. Mary 8th grade graduation class of 1993. The idea for monthly Youth Mass was introduced by Youth Minister Tim Winters in December 1993. This Mass, planned by and for the youth of our parish and their friends, was held at 6 p.m. on Sunday in the church. It soon developed a loyal following.
In January 1994, familiar weekend help-out and noted moral theology expert Father Bryan Massingale was the keynote speaker at our annual Day of Discipleship. Father Bryan's regular job was vice rector of St. Francis Seminary, but he had become a nationally known speaker and presenter. We were happy he accepted our offer to enrich us. We filled the Community Centre on a cold Saturday morning to listen and grow in faith.
St. Mary student Dawn Janiszewski initiated a 1.5-mile walkathon in February 1994 to raise money for cancer research, demonstrating our school's ability to teach the Gospel message of service.
Arise and Walk was the theme of the parish mission in March 1994. That spring, we also nurtured 16 RCIA candidates.
Father James Brady, our associate pastor, assumed the leadership role in our parish's Hope Offered Through Shared Ecumenical Action (HOSEA) group, an organization of Catholic and Lutheran churches working on social justice issues in our immediate communities.
Tom Kelm was hired in August 1994 as head custodian to succeed Dick Witterman who passed away.
The Archdiocese celebrated its 150th anniversary in 1994 and the bishops pledged to visit every parish in the diocese during the year. Archbishop Rembert Weakland presided at liturgy on a warm Sunday in July, and Auxiliary Bishop Richard Sklba visited the summer school of religion program that same summer, delighting the children with his keen interest in their studies.
The Altar Society raised $4,300 from its annual attic and bake sale in 1994, while the Spring Luncheon brought in $6,700.
By this time, Market Day, a fundraising activity that generates money for the school, was becoming popular with parishioners who stocked their freezers, refrigerators and kitchen cupboards with tasty, fresh, frozen and prepared foods. To be successful, Market Day relied on faithful volunteers from within the parish to organize the order taking and distribution of food on pick-up day.
The Women's Retreat Movement began in the winter of 1994. Mary Matestic and Carol Sullivan facilitated a retreat for 50 women who gathered at the Franciscan Retreat Center in Burlington, WI for soulful refreshment. Anne Morrow Lindbergh's time honored book, A Gift from the Sea, provided a peaceful resource for busy women who longed for quiet and the presence of God in a retreat setting. In 2001, the retreat moved to the Siena Center in Racine and it continues to grow and draw women who long to come to the quiet of Christ's heart for peace. The weekend retreat occurs annually in the autumn of the year.
In late winter 1994, Betty Alvey, a member of our Social Concerns Committee, received the U. S. Mayors' End Hunger Award for her work in the community.
1995
In January 1995, Father Art accepted the request to speak at the Day of Discipleship, our one day that is dedicated to ongoing Christian formation for adults. His topic was Sacramental Health Care: Anointing of the Sick.
Three hundred students were enrolled in grades 1- 8 for the summer school of religion in the summer of 1995. The students in the 2nd grade baked bread as part of their preparation for First Holy Communion.
Parenting with Purpose sessions were held on the first Mondays in November 1995, another example our parish fulfilling its mission to serve and be inclusive.
The Evangelization Committee, eager to invite all who have left the church or have been alienated for whatever reason, started the Lighthouse Listening sessions. These non-judgmental sessions consisted of one or two committee members who would wait patiently for someone to arrive and then simply listen to the story of the person who came to the session.In February 1995, Deacon Joe Dahlen retired from active ministry as an ordained deacon after nine years of service as our deacon.
In Spring 1995, the 7th graders put St. Mary School on the national map as they won the top honors in the National Engineers Week Future City competition. The team of Ryan Kukor, Craig Roush and Todd Wallschlaeger built the winning entry. They made the trip to Washington, D. C. to proudly represent our school and community.
June 1995 marked the arrival of a new associate, Rev. Greg Greiten. In his second parish assignment since ordination, Father Greg brought a new dimension to the pastoral team. He was especially helpful in the office with his proven computer skills. Like Father Art, Father Greg liked two-wheeled vehicles, too, but preferred his with motors. In a published interview in the parish newsletter, he was asked if someday he would own a Harley Davidson. His response was, "Sure, when I'm pastor."
January 1996 was a pivotal time for the parish as it embarked on a period of strategic planning, a much-needed effort to set a course for the future of the parish. A Strategic Planning team was appointed in February 1996 and it worked for the next two years developing strategies for the parish's spiritual and educational growth.
It should also be noted that January 1996 was the time when the Young at Heart group came alive. This hearty, life-loving group of people decided it was time to organize events and activities that would build community and provide avenues for fun. There were tours to take, plays to be seen, busses to be boarded, friends to be met, and meals to be enjoyed.
In April 1996, the Parish/School Endowment Fund was re-energized as a strategy to build a base of investment that would pay dividends in the future. The strategy was seen as a way to help manage the ever increasing costs to run the school and the parish.
Director of Family and Adult Ministry Daryl Olszewski left the parish in July 1996 to respond to the call to become a parish director in the archdiocese. Daryl was credited with the development and/or execution of many outstanding adult formation programs, including RCIA, Mathethai, the Men's Prayer Group and Day of Discipleship. He had been a contributing member of the team since 1987. A search committee was formed to find Daryl's replacement. In the fall of 1996, Sister Josephe Marie Flynn, SSND, arrived as his able successor.
The first "Royal Affair" fundraising auction and dinner was held Nov. 16, 1996, at the Tuckaway Country Club in Franklin. Parish members and friends donned their finest evening wear,and brought their check books and their willing hearts to the event, to support the Parish/School Endowment Fund. Friendly competition for several of the auction items pushed the bids higher and higher. The first event was so successful that it was sure to become a standing item on our parish annual calendar for years to come.
Moving from money to ministry, the Elizabeth Ministry began to take shape in 1996. Led by Peg Nugent, Ginger Rambo and Mary Matestic, this ministry was established to reach out to women anticipating a challenging birth and those desiring to become pregnant or those who had lost a child through childbirth or pregnancy. The ministry was so well conceived and executed that it was featured in the archdiocesan newspaper, the Catholic Herald, and also became a model for other parishes to emulate. The many volunteers eager to be part of this ministry added a welcoming dimension to all new babies in the parish.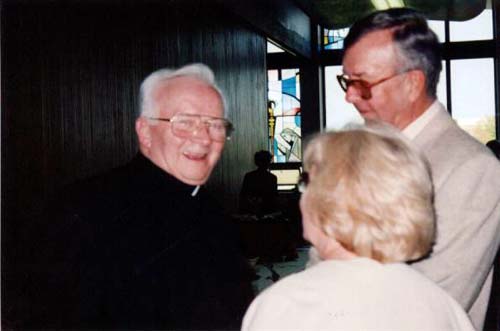 On June 21 and 22, 1997, the parish thanked Rev. James Brady for his 44 years of priesthood and helped him celebrate his new life stage-retirement. A wine and cheese social followed the 5 p.m. mass, and continental breakfast was served following the Sunday masses. We were grateful beyond words for the years that we were graced with this priest's special gifts, his friendship and his gentle spirit.
With the retirement of Father Brady, we have just two priests on staff so we're grateful for Father Andy Nelson, Father Mel Michalski and Father Dominic Caldognetto who help out. Father Andy and Father Mel are St. Francis Seminary teaching colleagues of Father Art. Father Dominic is a Xaverian Missionary priest.
More transitions followed for the parish in 1997 as school principal Sister Rene Kuban followed a call to move to another parish school. She was succeeded by Mary Ann Rudella, who brought more than 20 years of teaching and elementary school administration experience to the post. She previously was principal at All Saints Catholic Elementary School, and has taught grades 3 through 12 as well.
In the Spring of 1998, a clever fundraising idea for the school places Father Art on the pitching mound to toss out the ceremonial first pitch at a Brewers game. The stands are filled with a strong contingent from St. Mary, with $2 from every ticket going to support the technology needs of the school. Knowing Father Art, you can be sure he practiced his throw for weeks before he trotted out to the mound.
June signaled graduation time and in 1998 our parish school had 49 8th grade graduates and 46 kindergarten grads.
Later in 1998, long-time staff member Dorothy Damiano retired after serving the parish for 38 years. Dorothy's last assignment was that of business manager, where she contracted for critical parish services (remember the leaking roof?) but she served in so many other roles, many without titles. Besides being the glue that held the staff together with her thoughtful gestures and acts of kindness, she was a Eucharistic minister and member of many committees. It seemed that Dorothy was always there, helping with a meal, tidying up the office kitchen or assisting with a funeral or a special liturgy.
Barbara Searing joined the staff in October 1999 as director of Child Ministry, allowing long-time director Barb Schwartz to cut back on hours while continuing to direct part of the Child Ministry program in addition to coordinating the FOCCUS program for the engaged, as well as the stewardship of time and talent.
The annual bread exchange at the Thanksgiving Day liturgy was continuing strong in 1999, six years after it was launched by Father Art as a way to bring our large parish together. Bake or buy a bread, bring it to the table in the church with your name and phone number on it. After mass, you took home a different bread and called the person who brought it to say hello and wish them a happy Thanksgiving. Community building continues.
The St. Vincent de Paul Society coordinated another Francis Rainer Clean Up day in the Spring of 2000. This day brings out parish members who help clean up parts of the parish property, in memory of a deceased parish and St. Vincent de Paul Society member who untiringly picked up litter and debris from the property for years.
A new and exciting relationship with a parish in Haiti took root in June 2000 as St. Mary reached across the continents to touch the people of Our Lady of Perpetual Help in Latiboliere, Haiti. View more information about our Haiti Sister Parish ministry.
In 2000, the strategic plan to build a new worship space, make changes to other structures on our campus to create more meeting spaces, ease congestion in the school, upgrade the gymnasium and perform needed maintenance within our facilities was approved by the parishioners. A Building Campaign appeal was soon launched to fund this massive plan.
Listening sessions and a survey captured parishioners' ideas and dreams for a new worship space and campus improvements. A few thought the undertaking was more than the parish could handle, but the majority supported it enthusiastically, with the hope that more space would allow us to welcome even more into our midst and improve our already excellent educational experience for our children.
A Building Committee was established to plan and manage a budget, and select an architectural firm and a general building contractor.


2001
In June 2001 Plunkett Raysich Architects LLP was selected to design a new worship space for us.
June 2001 also marked another pastoral transition at St. Mary as Father Greg Greiten moved to a new assignment as pastor of St. Mary's in Menomonee Falls. Rev. Gary Nowicki joined the staff as associate pastor. Father Gary immediately thrilled the younger school children with information about his pet turtles and the parish opened its heart to him as he shared stories about his niece Jessica's struggle with illness and his travels back to Michigan to be with her and his family.
In May 2001, a delegation from St. Mary visited Haiti and, in September 2001, Father Tony paid us a visit, speaking at all masses on the weekend immediately following our nation's tragedy-the attacks of Sept. 11. Father Tony's visit was a joyful event, despite the immense sorrow and uncertainty that all Americans felt. The Haiti relationship was on firm ground.
In this same year, a delegation of 18 high school youth, with adult chaperons including Father Art and Tim Winters, began a relationship with the people of the Pine Ridge Reservation in South Dakota. Every year since 2001, Tim has organized the trip for high school students. While at the reservation, the teens build homes and plant food-producing gardens.
Joanne Prei became the new director of Child Ministry in July 2001.
Michael Halstead was appointed school principal in September 2001. He brought years of school administrative experience to the assignment. He retired from the Cudahy school district prior to taking the assignment at St. Mary.
Deb Honore joined the Liturgy department as associate director of music in September 2001.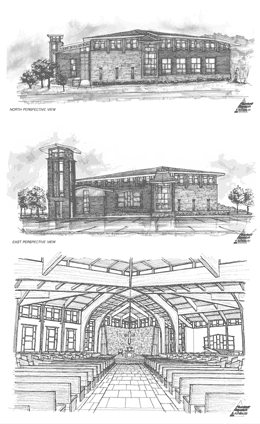 By December 2001, conceptual design plans for our new church and gathering space were ready and presented to the parish. The entire month of December was devoted to studying the plans and seeking more input not only from the now established Building Committee but from the Parish Council, staff and parish as a whole. The drawings were displayed the weekend of Dec. 8 and 9. The following weekend, Dec. 15 and 16, architect John Holz explained his concepts, pointing out that the new church would sit on the same site as an earlier church building for the parish. He answered many questions.
The Building Committee continued to hone the plans and by Father's Day 2002, in our 160th year as a parish, ground was broken for our new church that would seat 1,200 and a gathering space. With shovels and hard hats, Building Committee members and Council members joined Father Art Heinze and Father Gary Nowicki as ground was turned over and blessed.
Building Our Faith, Building Our Future was our construction campaign theme for our $8.2 million project. The new church would include two chapels -- Eucharistic Chapel and a Reconciliation Chapel. More than 44,000 square feet of new facility space would be added to the parish campus through this project. In addition, the existing church was slated for transformation into a structure that would host a new school and parish library, a computer lab for the school, meeting rooms, and offices and common work rooms for the school and parish.
Beneath the new gathering space would be a new school cafeteria. The project also included upgrades to the school's heating system, and a new floor surface in the gym.
Construction was the main attraction for the next 16 months as the former rectory and parish office were demolished to make way for our future. The shape of our new church grew before our eyes. Construction updates in the bulletin kept parishioners informed of the progress and poster boards containing construction photos displayed in the Narthex gave everyone a closer view of the incredible project.
Principal Halstead's health forced his retirement so, in the fall of 2002, a new principal rotated into the school office, Ms. Barbara Lee. She was a principal in the archdiocese of Milwaukee for 24 years prior to taking the St. Mary assignment. Most recently she had been principal of St. Rose Academy in Milwaukee.
The winter of 2002 was mild so construction work progressed at a brisk pace.
With the old parish office razed in April 2003, a temporary office was built into a section of the old cafeteria, adjacent to the lower parking lot. The parish staff endured the close, non-air-conditioned quarters while they eagerly anticipated new, functional and pleasant spaces in which to do their work.
By May 2003, the concrete floor of our new church was poured. A weekend was set aside to allow parishioners a first-hand look at the progress being made. Parishioners roamed around and marveled at the size of the new church, now still a shell with just walls and a roof. To add their mark to the project, all were invited to "sign" the recently poured concrete floor with a name or a message. Some wrote personal prayers, others poems. Some attempted to place a name or message where they thought their favorite place would be inside the church.
In August 2003, a new mass schedule was established. The Saturday evening mass was moved to 4 p.m., and the Sunday mass schedule was changed to 7:30 a.m., 9 a.m. and 11 a.m. The noon mass was eliminated and the 10:30 a.m. mass was moved to 11 a.m.
St. Mary's Web site was upgraded in mid 2003 with the addition of audio files of recent homilies, and photo albums of the construction project. The Haiti Ministry used the site to post committee agendas, meeting minutes and photos of its recent medical mission.
A new parish logo is introduced in August 2003 as well. Three diverse designs were presented to parishioners for their input. The logo featuring the image of Mary and the Christ Child from our stained glass window won the popularity contest. New letterhead, envelopes and business cards were produced.
In September 2003, the school welcomed a new principal, Jeanne Siegenthaler. Energetic and full of creative energy, Mrs. Siegenthaler earned a Masters of Arts in School Administration from Edgewood College, Madison, and a Bachelor of Science degree in education from the University of Wisconsin - Platteville. She also has earned a wide range of certifications. Prior to taking the assignment at St. Mary's, she was a K-12 special education teacher in Mineral Point, Wis.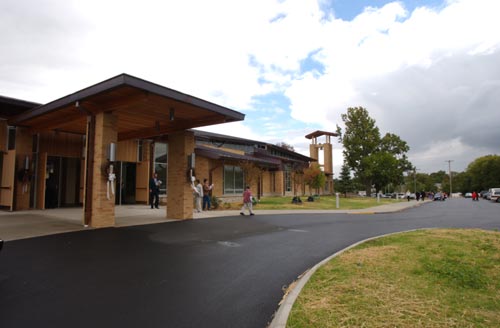 We took occupancy of our new church in late August 2003. The weekend of Sept. 27-28, 2003, was Dedication Weekend for our new church. Milwaukee Archbishop Timothy Dolan presided during the Rite of Dedication, at the 11 a.m. mass on Sunday, as the parish dedicated our new church to the Assumption of Mary. There were special activities after all of the masses and the entire weekend was marked with a heightened sense of community and faith building. Often, the joy was expressed through tears, as the parishioners marveled at the beautiful new space. A Sunday evening Vespers service concluded the dedication weekend activities.
Oct. 26, 2003, Deb Honore, associate music director, and her husband, Jeff, performed a special concert on a new grand piano, which was donated by a generous parishioner. The concert in our church was part of a year long series of concerts to help celebrate and dedicate our the new space.
In 2004, the next phase of construction went into high gear: to transform the former church in a two-level building that would provide much-needed meeting rooms, an expanded library and new computer lab for the school. On the main floor, offices for parish and school staff were constructed.
The Date Your Mate series was introduced as part of adult formation, allowing couples to set aside time to be together in a focused environment free of real-world distractions.
The staff welcomed Jim Beuscher as director of Child Ministry in the Christian Formation department in July 2004, succeeding Joanne Prei who retired June 30, 2004. Jim brought to us 15 years of parish experience. He is a graduate of St. Francis Seminary. Jim and his wife, Kathie, met here, were married here and their son, Aaron, was baptized here.
In Spring 2004, school parents and staff installed new playground equipment adjacent to the lower level parking lot.
A debt reduction campaign, with the theme Sustaining Our Faith, Securing Our Future, was planned and launched in 2004 as well. The appeal was part of the original plan when the construction project was conceived.
Shelving and furniture for the new library arrived and was installed by a team of parish volunteers.
In June 2004, Father Gary Nowicki left St. Mary's for his new assignment as pastor of a parish in Elkhorn, Wis., in Walworth County. As we thanked Father Gary for his service to our faith community, we welcomed Rev. Todd Budde as our new associate pastor.
A new symbol began to take shape in fall 2004 in the courtyard adjacent to the cafeteria - a Labyrinth. The Chartres-styled Labyrinth was completed in October 2004, and blessed by Fr. Art Heinze on a cold, rainy November in 2004. The idea of the Labyrinth caught the imagination of Mark Wimmer and his family, and their generosity along with the work of the people from Trees On the Move permanently offers this beautiful and ancient prayer path to the people in our Community. The Labyrinth is open to anyone who wants to take its quiet prayerful journey to seek the Lord.


2005
Transitions characterized 2005 as the parish experienced leadership changes for pastor and the adult formation director. We said farewell to Fr. Art Heinze and welcomed back Fr. Chuck Schramm, who had served the parish after his ordination in 1971. Sr. Josephe Marie Flynn resigned as the adult formation director to pursue the call to write a book about the successful campaign for asylum for Regina Bakala, who fled the horrors of life in Congo. We welcomed Wendy Rappé as Josephe's successor.
The parish continued its support of the people in Haiti, with visits by parishioners and a medical team. This support was recognized in 2005 by then Archbishop Rembert Weakland who presented a Vatican II award to Beth and Pam Lownik for their commitment to our sister parish in Haiti. Sr. Josephe also received this award for her work with the Bakalas and her ecumenical work with the "Bridge," an effort to help those struggling with employment in the post 9/11 years.
The Royal Affair, a fundraising event to benefit the school and the parish, observed its 10th year in 2005 with a gala at the Hyatt Regency in downtown Milwaukee.
A parish variety show features performances from several parish members. The Friday performance was preceded by a spaghetti dinner; soup and sandwich set the stage for the Sunday matinee.
After experiencing our new church environs for a short while, the decision was made to move the sanctuary light from its initial place over the tabernacle to a location just outside the doors to the Eucharistic Chapel, thus calling greater attention to the chapel of reservation for the consecrated Body of Christ. The Art and Environment committee also reported that it was in the process of securing a near life-size statue of Mary, the patron saint of the parish. It initiated the search after several generous donors stepped forward.
The image of Pope John Paul II graced the front cover of the bulletin in early April to commemorate the pontiff's death on April 2, 2005.
The parish website content now features select recordings of homilies.


2006
The new year started with a pulpit exchange with pastors from Greendale, Greenfield and Hales Corners, as part of the ecumenical dialogue.
In February, the parish congratulated Father Dominic, the faithful help-out priest, on the 40th anniversary of his ordination. He received gifts and a special blessing that was sung at the end of all of the weekend liturgies. In June, Father Chuck celebrated 35 years as a priest and associate pastor Father Todd Budde celebrated five years of priesthood. June 2006 also marked the first year of Father Chuck's term as pastor.
Sixteen-year staff member Carolyn Rausch retired in March. Carolyn was an anchor in the office and also volunteered for the fish fry and Spring luncheon. Barb Schwartz, a 15-year employee, retired later in 2006 from her duties as child catechetics director. Barb formed thousands of children during her tenure.
In March, the school held a winter carnival in the gym and cafeteria as a community builder.
Living the Gospel, parish members dug into their pockets for the Archdiocesan-wide Katrina relief drive to help those in the Gulf Coast region.
The festival marked its 25th year of building the community through fun and hard work.
As the parish celebrated the third anniversary of the new church, a statue of Mary was dedicated on Sept. 23. Artists Anna Koh-Varilla and Jeffrey Hanson Varilla were on hand for the dedication and reception.


2007
A Mardis Gras organ concert, featuring David Brackley and the parish's beautiful Rodgers organ, brightened the days of the lingering winter.
In March Father Chuck announced that associate pastor Father Todd Budde was being tapped to serve as a pastor and would be leaving the parish in June. We sent Father Todd off in true St. Mary's fashion, as he accepted his role as pastor at St. Bonifice in Germantown. Succeeding Father Todd was Father Stephen Forrest, a priest who quickly endeared himself to us.
The school went wireless in 2007 thanks to funds provided by the Home and School Association. New laptops and a color, wireless printer also were added. The school also learned it had achieved Exemplary Status in the area of mission, community and climate -- recognition from the Archdiocese of Milwaukee.
We had been following the drama of the asylum quest for Regina and David Bakala and in April, the hearing in Chicago was successful. The immigration judge granted asylum to both, saving them from deportation to the Democratic Republic of Congo. The parish rejoiced with the Bakalas on April 15. Kudos to the Save Regina Committee for their steadfast focus. For its leadership in the campaign to save Regina, the parish received the Rev. Herbert Huebschmann Urban Ministry Award. Sister Josephe Marie Flynn accepted the award on behalf of the parish at the Interfaith Conference of Greater Milwaukee on Dec. 6.
Francis Rainer day was observed May 12 as parishioners turned out to clean up the parish grounds, in the spirit of Francis who daily picked up trash and debris for years.
A feasibility study was launched to determine interest in a columbarium.
A special collection was held to offset a budget deficit of nearly $75,000.


2008
A parish revival in mid February set the stage for Lent. The three-day event included presentations by Mary Matestic, pastoral associate; Father Chuck Schramm; and Dan Scholz, chair and assistant professor in the Religious Studies department at Cardinal Stritch University. Father Stephen Forrest also taught a yoga class as part of the series.
The annual Evening for Couples had a Valentine's theme.
Holz Chevrolet employees collected food and supplemented that with the purchase of a large amount of food, resulting in truckloads for the parish food pantry. The St. Vincent de Paul society was grateful to the Holz family and team for their generosity.
Financial turmoil in the Archdiocese led to a meeting for St. Mary's parishioners with the archdiocese's chief financial officer in attendance as well as parish trustee, director of administrative services, a member of the finance committee and Father Chuck Schramm. Parishioners learned about the financial state of the archdiocese and the parish and also received answers to questions.
Faithful Citizenship was the topic of a two-part program about voting your conscience featuring Father Chuck Schramm and Father Andy Nelson, an instructor at St. Francis Seminary.
The middle school forensics team captured third place in a state competition.
St. Vincent de Paul member John MacGillis was recognized by the Archdiocesan Council of SVDP with the Ozanam Medallion, which is awarded to the individual who does an outstanding job of living out the ideals of being a Vincentian.
Changes in the composition of the adult choirs took place in 2008 with the combination of the two choirs into one. The action was driven by the loss of one of the choir directors and resulted in a larger choir with a broader range of voices.
Teen SPARC (Social-Positive-Active-Real-Community) was formed to shape the spirituality of the church's future leaders.
More than 700 people from 21 parishes attended an evening of reflection at St. Mary's for all liturgical ministers and parishioners in October. The event featured Father Richard Fragomeni, who teaches at the Catholic Theological Union in Chicago and chairs the Department of Word and Worship.


2009
Gina Brown joined the staff as the new principal of the school.
Father Fragomeni returned for a prelude to Lent, conducting a session that journeyed with St. Paul through Lent. He returned again in October for a session to answer "questions from the pews" about the Catholic faith, traditions and the liturgy.
Members of the parish assembled 60 brown bag lunches for those served by Repairers of the Breach.
The Columbarium Committee conducted a survey to determine the level of interest in adding a columbarium to the cemetery grounds.
The 14th annual Royal Affair featured denim attire and was held at the Harley-Davidson Museum. Arriving via motorcycle was optional.
In June, Father Stephen departed to take on the assignment of pastor of St. Mark Parish in Kenosha where his bilingual skills were needed. "I hope it won't be goodbye because prayer and friendships go beyond Hales Corners and Kenosha," he wrote in a bulletin letter of farewell. Absent an associate pastor, the parish continued to serve the people with good liturgy and sacraments through help-out priests, deacons and lay people.
The Archdiocese acquired an acting interim bishop -- Bishop Callahan -- as Archbishop Dolan was selected by the Holy Father to head up the Archdiocese of New York City.
The Young at Heart group announced plans to put on a murder mystery play with members of the parish as the acting troupe. The call for talent started in 2009 with auditions in September for the play to go live in 2010.
Handel's Messiah was performed by the Milwaukee Symphony Orchestra in the church on Dec. 16, continuing the commitment to use the church space for a music and arts series.
Jerome Listecki was installed as Archbishop of Milwaukee in November 2009.


2010
Newly ordained, Father Matthew Widder joined the staff as associate pastor. Father Matthew quickly endeared himself to all generations in the parish. Along with his devotion to Christ, he brought a conviction to physical well being.
Brigid O'Donnell joined the staff as pastoral associate as our long-time pastoral associate Mary Matestic moved in a new life phase – retirement. Brigid managed the RCIA program and also organized several initiatives to help adults grow in their faith, among them the First Fridays for Women series.


2011
The parish joined Father Chuck Schramm in celebration of his 40th anniversary of ordination.
Father Chuck Schramm and Father Matthew Widder hosted a six-part series to explore pressing issues in our faith as well as in today's culture. Topics included conscience; prayer; God, sex and religion; politics and war – whose side is God on; different religions; who is this awesome God?
The annual women's retreat in autumn, led by Mary Matestic, pastoral associate, featured the theme: Breaking Open the Word, Breaking Open Our Hearts.
Thanks to the generosity of a parishioner, the parish replaced the outdoor sign with a digital model that displayed rotating messages to promote events and invite the community to join us.
The parish, along with Catholics around the world, learned that the third edition of the Roman Missal was soon to be introduced. A committee prepared and executed a comprehensive plan to introduce the new language so that parishioners would be able to adopt the changes easily.
Father Matthew Widder journeyed to Haiti with other members of the parish as part of the parish's ongoing relationship with sister parish Our Lady of Perpetual Help in Latiboliere. He returned with new inspiration for the richness of a community gathering together to celebrate the Eucharist.
The annual Thanksgiving food drive demonstrated again the generosity of our parish. Sixty-six baskets of food were prepared for needy families and three other parishes received bags of food for their food pantries as well.


About This Document
Most of the contents of this document were contained in the 150th Anniversary Booklet compiled for the event in 1992. The creative and dedicated staff responsible for that booklet included Jack Bartness, Paul Gundrum, Max Hapka, Bev Jurkowski, Kathy O'Brien, Kathy Regenfelder, Helene Scheid (Chairperson), Rosemary Selep, Alan Strekow, and Ed Weiler. Special thanks to Alan Strekow for being able to unearth the text used in that booklet nearly 15 years later so that it could be included here.
The 1993-2011 portion of the history was written by Bev Jurkowski.
If you have information that you would like to add to this document, please Contact the Parish Office so that we can coordinate adding your information here.